When we say style we are actually referring to the type of paper towels your choosing to dispense. Just like the actual paper dispensers there are multiple varieties of paper towels. You have single roll, dual roll, jumbo, center pull and single sheet.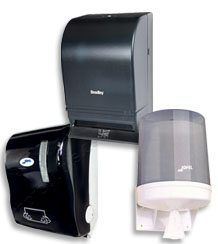 Single roll paper towel dispensers can be ideal for restrooms that are low traffic such as household and office environments. But, any establishment that is going to have more than just a few users is often going to need a dispenser that can hold more than a single roll.
Dual roll dispensers are for restrooms that have a moderate amount of traffic. They can hold two rolls at once and will dramatically cut down on the time spent changing out used rolls. There are even models that are designed to dispense one roll at a time and automatically replace the depleted paper towel roll with a fresh new roll. This type of paper towel dispenser is very common in many restrooms and establishments.
For high-traffic areas the Jumbo Roll Paper Towel Dispenser is recommended. This type of paper towel dispenser houses a jumbo size paper roll. These rolls on average are about 8" – 10" in diameter and are designed to last for extended periods of time. If you have a high-traffic area, this type of dispenser can really save you money in the over time.
Center pull dispensers also can sometimes use jumbo tissue rolls. These units allow you to pull the paper towels from the center of the roll instead of the outside of the roll. These units are almost always surface mounted and allow the paper to be removed without having to touch anything but the paper.