Another major factor to consider when determining what type of paper towel dispenser to buy is the type of material that it will be constructed from. Paper towel dispensers are available in a variety of materials, some of those materials are stainless steel, plastic and wood.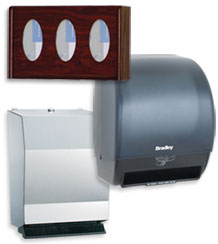 Stainless Steel – In many establishments the most popular choice of materials for paper towel dispensers is stainless steel. Stainless steel towel dispensers are most often found with one of two types of finishes, polished steel or satin finish. The reasons for stainless steels consistent popularity is that it is very durable and maintains an attractive look over a long period of time. Because stainless steel dispensers are constructed from steel, they often can endure a large amount of usage and are very effective at reducing vandalism and theft. Also, the metal finish can maintain an attractive shine over long periods of time that can be easily cleaned by simply being wiped down with a disinfectant.
Plastic –plastic can be a great alternative to stainless steel. Also called ABS plastic, this material has many of the advantages of stainless steel toilet tissue dispensers, but can be a much more economically feasible option. While they are not as durable as steel, improvements in manufacturing plastics has proven to increase the resilience of paper towel and tissue dispensers across the board.
Wood – Due to advancements in manufacturing wooden toilet tissue dispensers are becoming less prevalent in most of today's establishments. But, certain businesses and homes still prefer this inexpensive material, due to its aesthetic and economical properties. Wooden paper towel dispensers are commonly cheaper than plastic dispensers and can add an earthy feel that can't be found with any plastic or steel dispensers.